Fees
| | |
| --- | --- |
| Green Fees With A Member | $20 |
| Green Fees Without A Member | $30 |
| Cart Rental | $20 |
Annual Fees
| | |
| --- | --- |
| Bag Tag Fee | $5 |
| Trail Fees (Use of your cart not stored at Club) | $100 |
| Handicap Fee | $20 |
| Cart Shed Rent Gas (Includes Trail Fee) | $175 |
| Cart Shed Rent Electric (Includes Trail Fee) | $200 |
Policies
Golfing and Junior members and guests must have a Fairfield Golf & Country Club bag tag.
All golfers must register in the 19th Hole before starting a round.
Social, Weekday, and Wednesday  members may purchase a golf punch card to allow them and their guests to golf.  Guests must be accompanied by the member when using the punch card, and the guest is subject to the same limitations of play as outlined below.
Non-members living within 30 miles of Fairfield are restricted to three rounds of golf per calendar year with a golfing member.  They may not play several times as the guest of several members. Club sanctioned events such as the City Tournament, Blast Off, Inter-club tournaments, Member/Guest, company outings, school outings and tournaments do not count as rounds played.
The Golf Committee or the Board Executive Committee must approve group golf outings of more than 12 golfers.
Between May 15th and September 15th, Tuesday is Ladies' Day and Thursday is Men's Day.  The course is not closed but members of the opposite sex shall give preference to the men and women on their respective days.
On Saturdays, Sundays, and holidays between May 15th and September 15th, no more than a foursome on a tee is permitted.
All golfers must play at a reasonable pace and follow the rules and etiquette of golf.
Proper attire is required on the golf course at all times.  Men are required to wear collared shirts with sleeves.  No cut-offs or swimming suits are to be worn on the course.
Soft spikes, tennis shoes or soft soled shoes are required.  No bare feet or hard soled shoes are allowed.
Replace all divots and repair ball marks.
Keep motorized golf carts at least 60 feet away from the greens and use the cart paths as much as possible.
Golf carts may not be rented or used on the course by anyone not having a motor vehicle license.
Motorcycles, bicycles, snowmobiles, and other non-golf vehicles are not allowed on the golf course.
Sledding and snowboarding are not permitted anywhere near the greens.
JUNIOR GOLF (Age 16 and younger)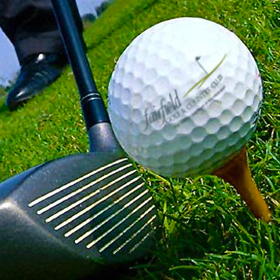 Juniors may play the course with an adult member at any time.
Junior Golf Memberships are for those 10 to 18 years old and full time undergraduate students not older than age 22.  Privileges are for Golf only and do not include Pool or Social.  Junior golfers may use the clubhouse for restrooms and to purchase beverages and snacks on a cash basis.  Junior members 16 years old and older may also buy lunch or dinner on a cash basis.
Members of the Fairfield High School golf teams are permitted to practice anytime during their spring golf season except after 5:00 pm Monday through Friday.
Junior Golfers (10 through 16 years old) must attend an orientation session in order to play without an adult member and obtain a yearly bag tag.  Junior golfers under the age of 10 must be accompanied by an adult member.
Junior Golfers are not permitted to loiter in the clubhouse.
Junior Golfers must play at a reasonable pace and follow the rules and etiquette of golf.
Repeated violations of the Junior Golf rules may result in golf privileges being revoked.